Company Man
Release Date: March 9, 2001 (Limited)
General Batista


COMPANY MAN follows a nerdy 1960s Connecticut high school grammar teacher Allen Quimp (Doug McGrath) as he stumbles into becoming a legendary sixties international spy hero in an effort to avoid his nagging wife (Sigourney Weaver). With total and blissful incompetence, Quimp is one part Inspector Clouseau, one part Mr. Bean, and no parts James Bond. His misadventures somehow contribute to his meteoric rise in the CIA, and ultimately send him to Cuba where he's involved in a plot to overthrow Castro. This satirical farce also stars John Turturro, Denis Leary, Alan Cumming, Ryan Phillippe, Heather Matarazzo and Anthony LaPaglia.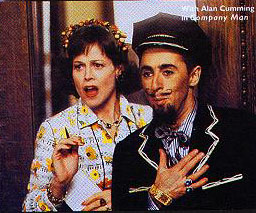 LINKS
Official Site NEW!
Official Synopsis
Upcoming Movies
Rave Central
Cinematter
Film Bug
Review
Pictures


TRIVIA
Woody Allen provides the voice of "Z" in the movie Antz, alongside Sylvester Stallone (Get Carter).
Ryan Phillippe is a Delaware native.
Alan filmed his part during his Cabaret run.
---
Do you have any trivia, pictures, or links to add? Let me know!


UPPIN CUMMING
[HOME] [ALAN TV] [BIO] [FASHION WORLD] [FILMS] [FUN] [LINKS] [MAGAZINE ARCHIVE]
[NEWS] [PICTURES] [QUOTES] [SEARCH] [SHOP] [SOUNDS & VIDEO] [THEATRE] [UPDATES] [WEBRINGS]