Spice World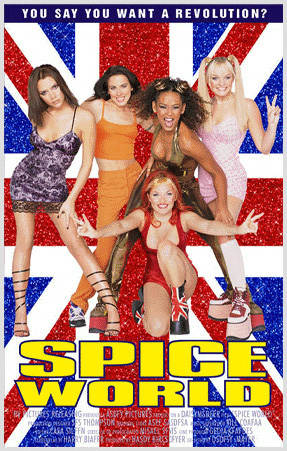 Piers Cutherton-Smyth

Bob Spiers (director of TV's Absolutely Fabulous) directed this feature-film debut of the five Spice Girls -- Posh Spice, Sporty Spice, Scary Spice, Ginger Spice, and Baby Spice -- as the quintet challenges the London pop scene during five days before their first live performance at the Royal Albert Hall in London. Photojournalists follow as they travel from press conferences to practice sessions to photo ops, passing London landmarks in the comfort of their cavernous Spicebus and emerging in a musical cascade of color, trendy clothes, and blinding flashbulbs. Shot in 43 days, the film features cameos by everyone from Elton John and Elvis Costello, to Stephen Fry and Bob Hoskins. -- Bhob Stewart, All Movie Guide

MAIN CAST

The Spice Girls
Richard E. Grant
Claire Rushbrook
Alan Cumming
Roger Moore





LINKS
TRIVIA
Alan was cast as the film maker partly due to the fact that Geri "Ginger Spice" Halliwell saw him perform Hamlet on stage in London, which greatly pleased Alan.
Alan has said this was one of his favorite films to work on because it was so much fun.
Meatloaf, who cameos as the bus driver, says a variation of one of his song lyrics in the movie.
The Spice Girls, who Alan considers friends, convinced Alan to get his eyebrow pierced after filming was complete.
Several of the Spice Girls saw Alan perform in Cabaret in New York.
Roger Moore portrayed James Bond in several of the Bond movies.
Richard E. Grant had a role in Alan's short film Butter.
Claire Rushbrook also appeared in Plunkett and Macleane with Alan.
---
Do you have any trivia, pictures, links or a review to add? Let me know!



UPPIN CUMMING
[HOME] [ALAN TV] [BIO] [FASHION WORLD] [FILMS] [FUN] [LINKS] [MAGAZINE ARCHIVE]
[NEWS] [PICTURES] [QUOTES] [SEARCH] [SHOP] [SOUNDS & VIDEO] [THEATRE] [UPDATES] [WEBRINGS]