Buddy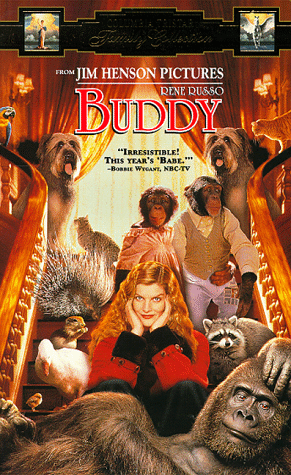 Dick Kroener

A lot of people like to say that their pets think they're human, but Trudy Lintz (Rene Russo) has taken this notion to a new level: she likes to treat her pets as if they were human. A wealthy New Yorker, Trudy has a menagerie of animals living in her apartment, including dogs, horses, ducks, and four chimpanzees whom she dresses in human clothing and treats as if they were her own children. Trudy's husband (Robbie Coltrane) is fully aware of his wife's eccentricities but has learned to live with them. However, this gets a bit more difficult when Trudy is persuaded to adopt Buddy, an infant gorilla. Buddy is a tiny creature in poor health when Trudy first meets him, but with love and care she nurses the gorilla back to health. However, the rejuvenated Buddy starts growing into adulthood, and while the chimps are small and docile enough to wear human clothing and obey Trudy's instructions, Buddy becomes a several-hundred-pound adult who hears the call of the wild too clearly to do what Trudy wants, which becomes painfully obvious during a trip to the World's Fair. Jim Henson's Creature Shop helped create the special-effects animals used in the film. -- Mark Deming, All Movie Guide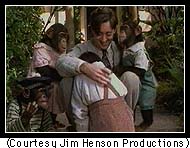 LINKS
TRIVIA
Alan loves chimps due to his work with them on this movie.
Alan developed the "monkey flu" from kissing the chimps on set.
Tonka, one of the chimps, developed a crush on Alan. They could not be reunited later for fear of Tonka acting out.
Paul "Pee-Wee Herman" Reubens, who has often been confused with Alan, has a small role.
---
Do you have any trivia, pictures, links or a review to add? Let me know!



UPPIN CUMMING
[HOME] [ALAN TV] [BIO] [FASHION WORLD] [FILMS] [FUN] [LINKS] [MAGAZINE ARCHIVE]
[NEWS] [PICTURES] [QUOTES] [SEARCH] [SHOP] [SOUNDS & VIDEO] [THEATRE] [UPDATES] [WEBRINGS]