Butter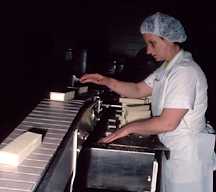 Ronnie

Written and directed by Alan Cumming, this short film originally aired on Scottish Television. It features Hilary Lyon (Alan's then wife) as a woman obsessed with food, in particular butter. She deconstructs on screen as she is stood up by her boyfriend and visits her friends trying to deal with her pain and flashing back to one night where she gorged herself on a slab of lard.

CAST

Hilary Lyon .... Jane
Jane Horrocks .... Beggar
Richard Wilson .... Steven Williams
Susan Woodridge ....
Andy de la Tour ....
Helena Bonham Carter ....
Richard E. Grant ....
Alan Cumming .... Ronnie


LINKS

Helena Bonham Carter Page with a short description of Butter.

TRIVIA

Alan has admitted to having eating disorders himself throughout his life.

Alan and Hilary met as students in high school, and then again at the RSAMD.

Alan was once described in the British papers as the next Kenneth Branaugh, who dated Helena Bonham Carter for a while.

Jane Horrocks dated Sam Mendes, who cast her and Alan in the London production of Cabaret. She also had a role in Second Best.

Richard E. Grant was the Spice Girls' manager in the movie Spice World.






---
Do you have any trivia, pictures, or links to add? Let me know!

UPPIN CUMMING
[HOME] [ALAN TV] [BIO] [FASHION WORLD] [FILMS] [FUN] [LINKS] [MAGAZINE ARCHIVE]
[NEWS] [PICTURES] [QUOTES] [SEARCH] [SHOP] [SOUNDS & VIDEO] [THEATRE] [UPDATES] [WEBRINGS]