The High Life

Sebastian Flight

This BBC2 sitcom followed the lives of two air stewards, Steve and Sebastian, and their co-workers aboard the Air Scotia airline.
CAST
Alan Cumming ... Sebastian Flight
Forbes Masson ... Steve McCracken
Siobhan Redmond ... Shona Spurtle
Patrick Ryecart ... Captain Duff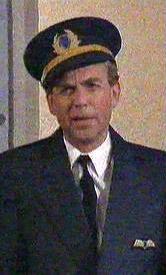 LINKS
TRIVIA
Alan and Forbes wrote this show themselves. They also wrote and composed all the music.
Alan's then-wife Hilary Lyons makes an appearance in one of the episodes.
Alan and Forbes based their characters partly on their comedy act Victor and Barry.
Alan had a dog named Shona when he was a child.
---
Do you have any trivia, pictures, links or a review to add? Let me know!



UPPIN CUMMING
[HOME] [ALAN TV] [BIO] [FASHION WORLD] [FILMS] [FUN] [LINKS] [MAGAZINE ARCHIVE]
[NEWS] [PICTURES] [QUOTES] [SEARCH] [SHOP] [SOUNDS & VIDEO] [THEATRE] [UPDATES] [WEBRINGS]