Second Best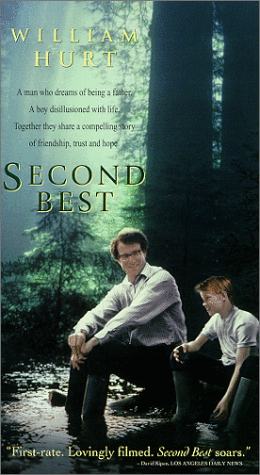 Bernard

Actor William Hurt delivers one of his most acclaimed performances in this drama from Oscar-winning cinematographer-turned-director Chris Menges. Hurt stars as Graham Holt, a repressed Welsh postmaster who lives a reclusive bachelor's existence with his suicidal father (Alfred Lynch), who is in failing health and is still grieving from the recent death of Graham's mother. Knowing that he'll soon be alone, Graham applies to adopt a troubled ten-year-old boy, James (Chris Cleary Miles), whose own painful history mirrors Graham's. Throughout the long adoption process, supervised by wisecracking social worker Debbie (Jane Horrocks), Graham struggles to win James' affection and respect during weekend visits, while the boy dreams of reconciliation with his father, John (Keith Allen), who is currently serving prison time. Graham's father dies, drawing Graham and James closer, and Graham begins to feel like a real father to James. But when John is released, he appears in town with the shocking news that he is afflicted with AIDS -- and cannot care for his son. -- Karl Williams, All Movie Guide

LINKS

IMDB
Nathan Yapp Salute
Reviews


TRIVIA

Alan and Jane Horrocks also starred in the London production of Cabaret.

Jane also had a role in Butter, which Alan directed.

Keith Allen had a role in Trainspotting, which starred many other of Alan's co-stars.




---
Do you have any trivia, pictures, links or a review to add? Let me know!



UPPIN CUMMING
[HOME] [ALAN TV] [BIO] [FASHION WORLD] [FILMS] [FUN] [LINKS] [MAGAZINE ARCHIVE]
[NEWS] [PICTURES] [QUOTES] [SEARCH] [SHOP] [SOUNDS & VIDEO] [THEATRE] [UPDATES] [WEBRINGS]