Cannes 2001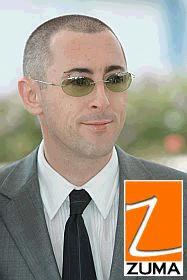 Alan Cumming apparently bribed Gwyneth Paltrow and Kevin Kline to star in his film-directing debut for the price of a pint. Peoplenews reports that the charming Scot managed to sweet talk his pals into appearing in The Anniversary Party with Jennifer Jason Leigh for the smallest of fees. "Who could possibly believe that you could get a line-up like that for the price of a pint? That's what friends are for," he said. "They even did their own make-up!" The film, which is set against the backdrop of a couple's sixth wedding anniversary party, was made over 19 days in the house of an architect friend of Cumming's.

May 18--Last night at Cannes, the hottest ticket wasn't for a screening--it was an invitation to the annual AmFAR fundraiser. Held at the elegant restaurant Le Moulin de Mougins, the event was called A Diamond Is Forever: Cinema Against AIDS. Though there was plenty of ice on display, it was the sparkling star power that dominated the evening.

Cohosted by Miramax Films, the occasion featured Hollywood legend, celebrated diamond lover and AmFAR Founding National Chair Elizabeth Taylor. In her introductory remarks, Taylor, expressing herself far more lucidly than at her interesting Golden Globes appearance earlier this year, implored the audience to support AIDS research. "We need your encouragement; we need your support," she said. "But most importantly, we need your cash."

The event raised close to $2 million, and during the lengthy auction, the crowd bid on everything from breakfast with Elizabeth Hurley to an outfit worn by Julia Roberts in Erin Brockovich. Among those present were Stephen Baldwin, Cannes jury president Liv Ullmann, Alan Cumming, Jennifer Jason Leigh, Rosanna Arquette, David Lynch, Tim Robbins and Sela Ward, who popped over from Monaco, where she was hosting the breast-cancer fundraiser Cure by the Shore.

The highlight of the evening was a performance by singer Shirley Bassey. Caked in diamonds, Bassey performed a sizzling rendition of the James Bond tune "Diamonds Are Forever." When Miramax cochair Harvey Weinstein goaded the audience to bid for an encore, it was Taylor herself who placed the highest bid: $100,000. Bassey promptly returned to the stage and brought the crowd to its feet with "Goldfinger."
QUOTE OF THE DAY
"Get famous friends."
---Alan Cumming, codirector of The Anniversary Party, divulging his advice to aspiring filmmakers
Later, Jennifer Jason Leigh and Alan Cumming, the stars and codirectors of the seriocomic digital-video work The Anniversary Party, convene to discuss their film, screening in the Un Certain Regard section. Joining them are costars John C. Reilly, Jennifer Beals and Jane Adams, among others.

"It's pretty thrilling to be presenting the film at Cannes," says Leigh. "It's what we always dreamed would happen. Cannes is the closest thing I can imagine to being a movie star in the 1930s. Walking up the red carpet is a scene you can't describe; you just have to experience it." The ensemble pic, which also stars Parker Posey, Kevin Kline, Phoebe Cates and Gwyneth Paltrow, "is all about friendship and love." She adds, "And everyone in it is a friend, and the part was written especially for them." In Hollywood, that's what friends are for.
Scottish actor Alan Cumming, who appeared alongside Nicole Kidman and Tom Cruise in Eyes Wide Shut, hopes to premier a film he has written and directed at the Edinburgh International Film Festival.Cumming said that the festival would be the ideal opportunity to launch his film, The Anniversary Party.

LET'S PUT ON A SHOW: Cabaret pals JJennifer Jason Leigh and Alan Cumming have made a strong impact at Cannes with their co-created film The Anniversary Party, a loopy, poignant and acerbically funny movie about a bunch of friends gathering for a battling couple's sixth wedding anniversary. Leigh and Cumming co-star as the couple, co-wrote and co-directed, and enlisted a gaggle of their best friends, from Kevin Kline to Jennifer Beals, to co-star.

"It was like one of those Judy Garland-Mickey Rooney films," Cumming says of the "let's-put-on-a-show" genre. In their case, it was: "Let's do a movie! We talked about how digital video was making it easier for people to make films."

Leigh says the project was the easiest thing. "I wasn't actually nervous. It came so much out of me and Alan, out of our friendship (which was generated by working together on Broadway in a revival of Cabaret)."

"We started talking about how we both wanted to direct, and said: 'Why don't we do something together and do a portrait of a marriage and let's have all our friends in it and let's have it all take place in one night.'

"We wanted it to be all friends because it's a very different thing when people 'act' friendship than when they are friends because you come in with a history. You can just cut through."
| | |
| --- | --- |
| | The Variety Pavilion hosted the American Directors Conference moderated by Roger Ebert. Invited directors included J.J. Leigh & A. Cumming, E. Hawke, A Howard, T. Solondz, W. Wang. |




Don't forget to visit the Cannes photo gallery.






UPPIN CUMMING
[HOME] [ALAN TV] [BIO] [FASHION WORLD] [FILMS] [FUN] [LINKS] [MAGAZINE ARCHIVE]
[NEWS] [PICTURES] [QUOTES] [SEARCH] [SHOP] [SOUNDS & VIDEO] [THEATRE] [UPDATES] [WEBRINGS]