Alan Cumming on Conan O'Brien 11/2/99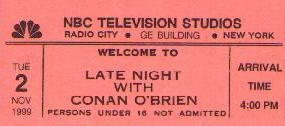 Very early on Tuesday, November 2nd, Linda and I traveled to the NBC Studios in NY to get stand-by tickets for the Conan show, where Alan was scheduled to be a guest. Here is my story.

We left home around 4:00 AM (yes, in the morning) to get up to NY early enough. I was slightly paranoid that a mass convergance of the Alan Cumming fan club would occur upon the stand-by ticket line, so I wanted to get to NY around 6:30 to be the first people there. We found the studio without too many problems, and found a line formed already for Rosie stand-by tickets. We figured we'd try for those too and since we were among the first 10 people there, we figured we'd get in. As we were waiting in line, Florence Henderson (Carol Brady) arrived at the studio and walked in (she hosts the Later Today show). (Celeb spotting number 1)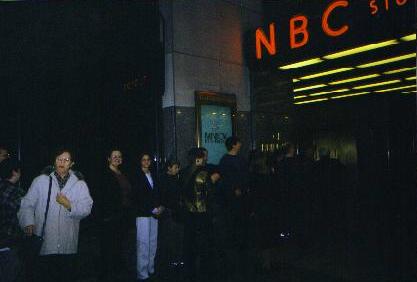 At 7:30 a Rosie person came out and had us all draw numbers to decide how we would line up to get into the show. Unfortunatley, they do a lottery system and we drew number 28. :( We then proceeded to the other side of the entrance to wait in line for Conan.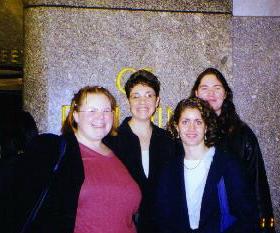 Kami, Nicole, Linda and I had a wonderful time gabbing about Alan for the 1.5 hours that we waited out in the rain for the tickets. We saw Phil Collins and his band arrive for their Rosie appearance. (Celeb spotting Number 2) Fortunately, Conan does his stand-by tix first come-first served, so we were number 4-8. We figured at that point that we'd get in to see the show. We then headed in to see if we could get in to see Rosie. Kami and her friend got in (they had drawn number 5) but Linda and I got cut out of the audience by 6 people. Grrr... we all split up then and promised to meet back up for the Conan show that afternoon.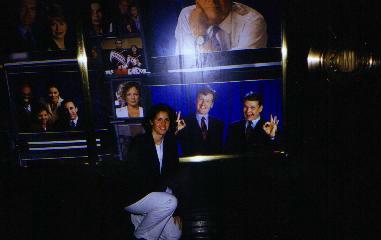 By this time, Linda and I were tired and hungry so we headed to an interesing cafe around the corner that served everything and anything you've ever wanted to eat. We sat for a while and had some breakfast, lamenting our bad Rosie fortune but feeling fairly confident that we would get in to see Conan (and Alan!).

Linda and I weren't fully prepared to spend the day in the city. Our legs were aching from standing in line for so long (its one thing to camp outside a theater for tickets to see Alan's final Cabaret performance, at least you get to sit!; we stood for 3.5 hours straight in heels), we didn't want to wander off too far, it was raining and we had little money. So, we wandered down to Radio City Music Hall and peeked in to see some of their new interior. Then we found a CD store a block down that (a) Had a huge line out front of people waiting to see a Mariah Carey performance there that night and (b) had the Annie soundtrack! We happily found they had it set up so you could listen to it so I put the earphones carefully on my head, not wanting to mess up my hair, and gleefully skipped to track 10--Easy Street! I excitedly jumped up and down when I heard Alan singing--his New York accent is soooo cute!--and I could barely contain my joy as I realized: His singing voice is incredible! It has improved so much since the early Cabaret days. Its so strong and confident. AH!

We then decided to go sit in Barnes & Nobles for a while and relax. As we walked in, I noticed a sign announcing that Frank Gifford would be there from 12:30 to 1:30 to sign some football book that he wrote the forward to. It was almost noon at this point, and there was already a line forming. Linda and I went upstairs and found a nice little table that overlooked the booksigning area and settled in for a while. Unfortunately, we realized that he would be sitting directly underneath us, and we would have to go downstairs to see him. So, we sat and read for a while, and then we went downstairs to see Frank Gifford (celeb spotting number 3). We spent a little over 2 hours in that store looking at books, taking brief naps, and glaring at an evil man who came and took Linda's chair even after I told him not to sit there. :|

We then headed back to the NBC building and found a mini-restaurant where we sat and had a small lunch. As we were sitting there, Linda noticed a commotion in the bathroom (I had my back to it). First, a security guard was there blocking the door. Then, some more security people arrived. Then, a man brought in a backboard and a medic bag. Then, 2 medics arrived with a heart difilibrator. Obivously, this pretty much stopped the restaurant as we all stared towards this tiny bathroom to figure out what was going on. Slowly, each person started leaving one by one. Then, a girl appeared from the bathroom, crying, and she left. And that was the end of it. We never did figure out what happened...

We had been told to come back at 4 for the Conan show. At 3, we were bored and tired so we went and stood with Nicole in the stand-by line. The reserved ticket holders were already lining up too. Then an NBC page came over and told us we didn't need to be there yet and to leave because security wouldn't let us stand there. Um....ok. We gathered our belongings and started to move, then she came back and told us we could stay if we wanted to. Yeah, they're real organized at NBC. We decided to go to the NBC store and we looked at the things in there and watched a little TV. Then, we proceeded back to the line to find it about three times as long as when we'd first been there. But, we posessed low numbered standby tix, so we went to the front of the line :).

This is when I learned my very important lesson: even at this point, about an hour before the taping, the pages were in the lobby BEGGING people to come see the Conan show. They had all these extra stand-by tix and they needed to get more audience members. Pish! I know next time not to come at 6:30....

By this point, we were all pretty excited. All we could do was natter on about Alan and discuss how loud we wanted to cheer for him, what he would be wearing and what he'd talk about.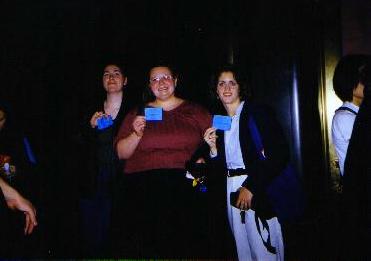 Finally, we were ushered upstairs and into the studio. The stuido itself is very small. Which is good because we wanted to be as close as possible to Alan. We had decent sight lines to the guest chair and we excitedly bounced in our seats and fixed our hair and makeup (not that Alan could very well see us anyway...).

The warm-up guy came out and got us laughing then Conan and Andy came out and they both seemed pretty cool. The show started and we participated like a good studio audience. We cheered as loud as possible every time we heard Alan's name. As soon as Conan said that Alan would be up next and went to commercial, we started trying to see around the curtain to see the man standing back there. Suddenly, I caught a glimpse of a man with dark hair wearing something unusal. I let out a little screech and grabbed Nicole and Linda. "There he is!" We spent the next few minutes sneaking little peeks at Alan whenever the curtain parted. He looked so cute!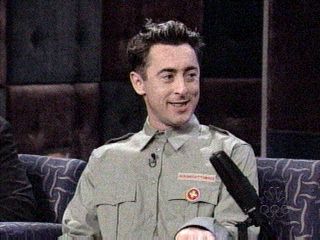 The interview is a semi-blur now. We all sat on the edge of our seats, straining to be as close as possible to the stage. We laughed, we cheered, we yelped, we clapped. We wanted Alan to know that he had some fans in the audience! He seemed a bit surprised when we all clapped after he said that when the goldfish died the last thing it saw was him standing there naked, and that's not a bad way to go. The poor man: he sets himself up!

As I said before, the interview was far too short. I've heard the Tonka story before, and I was really hoping he'd talk about Annie and maybe show a clip. Something to note: Conan had a copy of "Out" on his desk, and I was hoping they'd talk about that, but they never got to it. Then, it was over and Alan left (not before waving at us).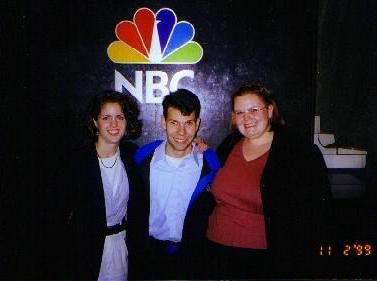 We parted after the show and Linda and I met up with our friend Jim and had a far too expensive dinner at a nearby restaurant. By this time, it was pouring and we got so wet!

Linda and I left the city fairly early since I had to work today. :( I am really glad I got to see the show, especially since I couldn't record it. I guess I'll have to wait for the repeat....




---
UPPIN CUMMING
[HOME] [ALAN TV] [BIO] [FASHION WORLD] [FILMS] [FUN] [LINKS] [MAGAZINE ARCHIVE]
[NEWS] [PICTURES] [QUOTES] [SEARCH] [SHOP] [SOUNDS & VIDEO] [THEATRE] [UPDATES] [WEBRINGS]