Design For Living Trip: March 3, 2001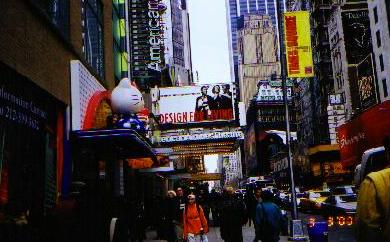 We were hoping to get to see the evening show. However, that was sold out so we had to settle for the matinee. We arrived in plenty of time and we admired the advertisements outside of the AA Theatre proudly proclaiming the arrival of DFL. We went in and picked up our tickets and proceeded in to the theatre.
The staff was very nice, but the atmosphere is very different from Studio 54. Studio 54 always seemed like a hub of activity with millions of ushers, waitresses scurrying back and forth with drinks and food, and that unmistakable feeling of anticipation knowing that Alan and the kit kat boys and girls lurked behind the already viewable stage, dry-shagging each other and getting ready for another great performance. The AA Theatre did not have that same kind of energy, and it seemed like a mostly older crowd at this performance.
So Linda and I headed to the elevator, for we had seats in the very last row of the mezzanine. Very upsetting for someone who is afraid of heights, like me, but I just repeated my mantra "Its all for Alan" and tried not to stare for too long into the bottomless pit that lay before me that is often my worst nightmare. We made it to our seats without incident and we settled in for our first performance of DFL.
WARNING! WARNING! I WILL BE TALKING ABOUT DFL NOW. IF YOU DO NOT WISH TO READ ANYTHING ABOUT IT, FOR THERE MAY BE SPOILERS, SKIP OVER THIS PART!
S
P
O
I
L
E
R
S
So the play begins with Jennifer Ehle (aka Gilda) sitting in a chair in a very messy flat in Paris. Presumably, Otto (aka Alan) is in the bedroom asleep. A friend of theirs named Ernest comes to visit, and he and Gilda talk for a VERY LONG TIME. I kept looking at my program, thinking, ok, Alan is the third one to appear (for that is what the program says) but it takes forever until he makes his entrance.
Now, I've seen Jennifer Ehle in Pride and Prejudice, which I adored her in. She won a Tony last year, so I had high expectations for her performance. However, I was not pleased with her take on Gilda at all. I found her bland and boring and overly dramatic. I admit, this is the first time I have ever seen DFL, first time I've seen the story at all, so maybe this is how Gilda is supposed to be. But it made for very boring theatre.
Finally, Alan makes his entrance, and the entire theatre comes alive. Finally, there is someone interesting to look at. Finally, there is hope that I won't be committing suicide by jumping from my seat and plummeting towards the orchestra section for I cannot take listening to Gilda and Ernest talk for one more second! But I digress. I sincerely mean it when I say the play comes alive once Alan comes on stage. He is so animated and funny and you really believe him in the role of Otto. Even from the "poor people" seats, you can see every facial expression, every lift of an eyebrow, every smile, every dimple twinkle. Alan is the best part of the play.
His first costume is something to behold. He is wearing an argyle sweater, with a pair of golf-like pants and golf-like shoes. His blonde hair is very believable in this outfit. I didn't find it distracting at all. The only time the hair is NOT believable is when he tracks Gilda down in London and he comes in fresh from the success of his showing in New York, and he enters wearing a bright red coat (???) a hat, and a suit. Once he takes off the coat, and just wears the suit, the hair completely stands up and says "Help! I'm out of place in this scene!".
My favorite scene of the entire play was the exchange between Otto and Gilda after he's returned from NY. Gilda seems to wake up for the first time the entire play and Otto shines. His heart is so full and he has some terrific lines here.
Oh, let's go back to Dominic West. I was pleasantly surprised. I haven't seen him before (Spice World doesn't count) so I wasn't expecting much. But he is actually quite good as Leo.
The sets are quite lovely too. I really enjoyed how they use the curtain as part of the set. I can't describe it, but its unique and quite enjoyable.
The first act was wonderful and ended on a very high note. The second act, however, needs serious help. After the curtain opens, the actor who first appear appear much too soon. There's not enough time to take in that the play is starting again and we need to pay attention. Then, perhaps, it was just for this performance (I hope) but Leo made his entrance way too early. He appeared around the corner, saw that he wasn't supposed to be there yet, and ran off stage again.
As most are aware, the story is about the relationships between the three main characters and how they can't live without one another. The first act is fine, you accept that Leo and Otto had been together at one point, and that they had each been with Gilda for a period of time. However, in the second act after Leo and Otto get back together, they turn into these two flamboyantly gay characters. They flit around and their voices get higher and they wear outrageous clothes (if you watch "Will and Grace", think Jack here). I found it way over the top. Like I said before, maybe this is what happens, but its so darn distracting. It was like they had changed in to two completely different people.
Anyway, the second act just doesn't seem to fit together well at all. It doesn't seem polished and something is lacking, I don't know what.
From what I've read of other people's accounts of the show, they've already changed some things. People mentioned alan being bare-chested, which he never was in yesterday's performance. But something did happen that I haven't seen mentioned yet. In the scene where Ernest returns to the NY apartment and finds Otto and Leo out on the balcony (which is rather hilarious) he exclaims about them being in his pajamas. Leo is wearing the pajama top and a cute pair of undershorts (dominic west has great legs by the way) and Otto is wearing the pajama bottoms and a white sleeveless undershirt. Ernest orders them to take off his pajamas at once, which they start to do. Leo mocks taking off the shirt, and Otto mocks taking off the bottoms, but they stop once Ernest orders them to leave them on. However, as Alan was pulling his pants down, he turned his rear to the audience and moons us! I was quite shocked and am afraid I made a fool of myself. I saw Cabaret 4 times, but I was not expecting to see his butt in DFL. Linda claims I screamed out (which I hope was not too loud) and we giggled like little girls for about 5 minutes straight. I guess even at 25 I'm not mature enough for this show...
E
N
D
S
P
O
I
L
E
R
S
Anyway, the show ended and Linda and I cheered and clapped for Alan as he took his bow. As we made our way down the stairs, we heard some announcement being made but couldn't make it out. Linda had mentioned earlier about how great it would be if they had one of those discussion sessions after our performance, but I scoffed at the idea. I figured since they had an evening performance as well, they wouldn't be holding one after the matinee. But, my hopes were raised as we walked into the orchestra section and saw 4 chairs sitting on the stage and people taking seats down front. We compromised and sat in the middle of the orchestra section (I wanted to be able to make a hasty get-away in case Alan didn't come out) and sure enough, we were rewarded! A few minutes later Alan came strutting out on to stage (I don't think he knows how to walk any other way....I love it!) with a water bottle, wearing a pair of really dark blue jeans, sneakers (I think) and the same shirt he wore when he hosted Saturday Night Live. Linda and I clapped, as did many others in the audience, and we settled in for a lovely discussion with Alan.
Unfortunately, he could only stay for about 10 minutes because he had an appointment. The actor who played Ernest (John Cunningham) and the actress who played Miss Hodge (Jenny Sterlin) also came out for the discussion. I felt bad for them because almost all of the questions were directed towards Alan, but he was sure to include them as often as possible on questions. The whole thing was not very well organized. They only had 1 microphone, which first just the commentator was using, but then she got smart and started handing it to the question askers in the audience, and finally got smarter when she handed it to the actors to talk in to. But they really needed 2 microphones for you either missed the question or the answer. I was surprised by the rudeness of the audience though. They were yelling at each other to be quiet or yelling at the actors to "project their voices".
Alan eventually had to leave, and Linda and I left soon after for we were meeting our friend Jim right after the show. The discussion didn't last for too much longer, maybe 5 more minutes, because they started filing out while we were still standing outside the theatre.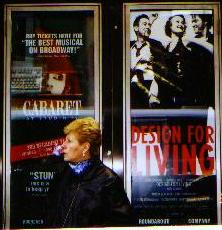 After the play was over, Linda and I had lots of time to kill. Our plan was to stay in NY until after the evening performance was over in the hopes of getting to see Alan. So we met up with our friend Jim and headed out to entertain ourselves.
We ended up going to Little Italy for dinner and the plan was to go see De La Guarda (sp?) because its short and would be over in time for us to get back to 43rd street by 10:40 (our approximation of when the evening performance of DFL would be over). We missed De La Guarda so we headed to the TKTS booth (via cab...my first cab ride ever) to see what else was a possibility. We ended up seeing Forbidden Broadway, which was hilarious. They still do their Cabaret spoof, which was also very funny, and I though a neat way to tie in the evening to Alan.
That ended around 10, giving us plenty of time to walk back to the AA theatre. We headed down 43rd street, looking for the back of the theatre and the dumpsters. We located what we thought to be the stage door and started waiting. Our friend Jim used to be a Cabaret usher (afer Alan left unfortunately) so he headed around to the front of the theatre to see if he could find anyone he knew. 43rd street was a little scary. For some reason, it didn't seem as friendly as 53rd street (where the stage door for cabaret is) but once DFL let out, we had some company.
So we waited for a long time, and eventally realized what looked like the stage door wasn't and what I thought was the fire escape is the stage door. Some people exited through there, but no one we recognized. There were a couple autograph hunters who chased people down the street who they thought were in the cast.
About 40 minutes after the show ended, a girl came out and saw a bunch of us standing there. She asked who we were waiting for and someone at the front of the line said "Alan." She looks at all of us waiting there and says "I'm pretty sure he left already. Through the front door." And she walked away. We all looked around at one another in terror, but no one left. I was convinced she was mistaken, as was everyone else apparently. So we waited a while longer (lots of waiting in part 2) and our friend Jim wanted to know how long we were planning to wait. I thought about it and said maybe half an hour longer and Linda said "I have the car keys. I'm waiting as long as it takes." Good old Linda.
Fortunately, the waiting finally ended as Alan exited the fire escape. He was wearing an orange jacket and the same clothes he had on at the discussion. Linda and I kind of hung back wanting to be the last ones to talk to him. Our friend Jim started taking some pictures for us. Then, I noticed a man standing behind Alan. I thought, "He looks really familiar..." and then it hit me: It was Carmine! Yes, good old Carmine from Studio 54 has again taken his position as Alan's bodyguard. It was wonderful to see him again...he's almost like an old friend. And he was wearing a matching orange jacket.
There was a woman with a young girl waiting in front of us and it was so cute as Alan was telling her had a movie coming out soon called "Spy Kids" and he thought she would really like it. He told her when it was opening and that it had Antonio Banderas in it and it would be a blast (or something).
Finally it was our turn and I suddenly turned timid. Jim had to actually push me towards Alan. How strange! How many times have I met Alan before and now suddenly I'm scared to go near him! But I thrust my pen and playbill at him, like I've done many times before, and horridly realized I had nothing interesting to say to him! I hadn't come prepare with a witty remark or something interesting to say! So I stumbled out how great he was and something stupid about all his movies coming out soon. He thanked me and started to turn away when I realized I hadn't gotten my picture yet. I said, "Oh...can I get a picture?" and he turned back to me and agreed so we got into our normal positions and Alan says "Where are we looking" and I thought "Oh, God, where is Jim??" but then I saw him and pointed towards Jim. Alan didn't think we were standing at a very good angle, so he started shuffling us around (he still had his arm around me) so that we would be facing the camera more. Jim took the picture and I walked away in my typical alan-induced trance. I took a couple more picture on my digital camera after Linda had her turn with him (she actually had something interesting to say...though i can't remember what now). Then Alan headed into his limo and took off.
Then, I had my own brief moment with fame. I was standing there trying to look at the pictures I'd just taken and a woman who had just talked to Alan came over to me and said "Do you have a website" to which I replied affirmatively. So she gushed about how she'd seen my website and that she thought I looked familiar and how much she liked it. I just thought that was so strange as I was there to gush over Alan and someone recognized *me* from my website. Very cool.
That is the end of my story. As always, Linda and I thoroughly enjoyed ourselves and are looking forward to seeing DFL again in the very near future.
---
UPPIN CUMMING
[HOME] [ALAN TV] [BIO] [FASHION WORLD] [FILMS] [FUN] [LINKS] [MAGAZINE ARCHIVE]
[NEWS] [PICTURES] [QUOTES] [SEARCH] [SHOP] [SOUNDS & VIDEO] [THEATRE] [UPDATES] [WEBRINGS]